Amsterdam: Europe's most popular gay destinations
Details

Category: Amsterdam
Besides being known as one of the most beautiful cities in the world, Amsterdam has become one of Europe's most popular destinations for gay and lesbian visitors. The city's relaxed and tolerant attitude to different lifestyles is a major draw, as is the international atmosphere where English is widely spoken.
Amsterdam has dozens of gay bars, dance clubs, saunas, bookshops, restaurants and hotels. The majority of the city's gay and lesbian hotspots are concentrated near the Reguliersdwarsstraat, Kerkstraat, Rembrandtplein/Amstel and Zeedijk/Warmoesstraat.
A city of firsts for gay rights

It's hard to imagine a more gay and lesbian-friendly destination than Amsterdam. A safe haven for those persecuted for their views or lifestyles for centuries, it's no surprise that Amsterdam emerged as a frontrunner in gay rights as far back as the 19th century. The result is a city that still leads the world in openness and freedom.
Amsterdam could be considered the birthplace of lesbian, gay, bisexual and transgender (LGBT) rights. Homosexuality was decriminalized here in 1811, and the first gay bar followed in 1927. One of the world's first organisations for gay rights, the COC, was founded in Amsterdam in 1946. As a tribute to the many gays and lesbians who lost their lives in World War II, the city unveiled the first-ever Homomonument (gay monument) in 1987.
In 1998, Amsterdam became the first city outside North America to host the international Gay Games. The Netherlands was also the first country in the world to legalise same-sex marriage. On 1 April 2001, mayor Job Cohen officiated Amsterdam's first legal gay and lesbian weddings.

Amsterdam Gay Pride and the Canal Parade
Started in 1996, the Canal Parade is the highlight of Amsterdam Gay Pride. Held on the first Saturday in August, the extravagant parade features colourfully decorated boats filled with dancing participants floating down the city's famous canals. Drawing 500,000+ spectators – many from abroad – this exuberant celebration has become one Europe's most popular gay events.
The Canal Parade reflects the city's cultural mix and "live and let live" attitude. The parade route is lined with a fascinating mix of spectators: gays and lesbians, parents with young children, waving grandparents and transfixed tourists. Clubs, bars, corporations, NGOs, political parties and other organisations compete to present the most spectacular boat. Popular locations to watch the Canal Parade include the Prinsengracht and along the Amstel, especially near City Hall and the
National Opera & Ballet building.
Organised by the Amsterdam Gay Pride Foundation, Amsterdam Gay Pride takes place annually in the first week of August. Besides the Canal Parade, the programme includes parties, debates, lectures, sports, exhibitions and other cultural activities. Street parties take place near the Reguliersdwarsstraat, Rembrandtplein, Halvemaansteeg, Zeedijk and Warmoesstraat. The festive week closes on Sunday afternoon with the big closing party on Rembrandtplein. Visit www.amsterdamgaypride.org for more information.

Tradition of tolerance
Amsterdam has a reputation for being open-minded and tolerant. To some this may seem a recent development, but in fact this tradition of tolerance stretches back to the 17th century. During the Golden Age, Amsterdam was a centre for freedom of press, religion and new ideas. The city became a refuge for Protestant and Jewish merchants and as well as philosophers who were persecuted in their own countries.
Tolerance in Amsterdam continues to be based on respecting and accepting people's differences, including race, religion, sexual orientation and political convictions.

Homomonument (Gay monument)
Constructed in 1987, the world's first gay monument commemorates everyone who has suffered persecution because of their sexual orientation, especially those who lost their lives in WWII. It aims to inspire the entire LGBT community in their struggle against denial, oppression and discrimination.
Designed by Karin Daan, the Homomonument lies beside the Westerkerk, taking the shape of a triangle on the edge of the canal. Its three points are symbolic: one corner points towards the National War Memorial on Dam Square; another points across the canal to the site of the Anne Frank House; while the third corner points towards COC Amsterdam. It remains the largest monument in the world dedicated to homosexuality.

Pink Point

Located next to the Homomonument, the Pink Point is an information kiosk created especially for gay and lesbian visitors. It is open seven days a week from 10:00 to 18:00. The kiosk is a great starting point for information about Amsterdam's LGBT scene, including nightlife, local activities and organisations. They also offer a variety of original souvenirs.
Pink in Blue Police Network
The Pink in Blue (Roze in Blauw) network is a task force of police officers - most of whom are gay, lesbian or transgender themselves - dedicated to protecting the Amsterdam LGBT community. The group started unofficially in 1998 during the Amsterdam Gay Games. The network's members help both Amsterdammers and visitors by reporting discrimination, insults, assault or theft related to sexual orientation.

EuroPride 2016
Amsterdam has been selected to host EuroPride 2016. This is an international LGBT event hosted by a different European city each year. This 16 days event takes place from July 23rd - August 7th 2016 and offers a broad program of art & culture, sport and debates. The last days will coincide with Amsterdam Gay Pride, with the world famous Canal Pride on August 6th. The event will end with a concert to celebrate the Freedom in Amsterdam.
Transmission October 17th 2015 – March 13th 2016
The photo exhibition Transmission will tell you the stories of and about the transgender. The beautiful portraits of Miep, made by the photographers Koos Breukel and Milette Raats, provide an opportunity for Amsterdam Museum to offer a platform to tell personal experiences in the transgender world. Based on objects, like a fur coat, a pride flag and a petticoat, the transgender will tell their personal stories about gender, recognition and pride.
More information you will find on: www.amsterdammuseum.nl/transmission
More information about gay Amsterdam:
www.iamsterdam.com/gay
---
Top 10 hotels in Amsterdam - selection based on highest ratings in reviews
Park Mansion
Park Mansion Centre
offers a luxurious apartment with opulent period-style décor and free Wi-Fi, overlooking Vondelpark and 5 minutes' walk from Leidseplein. Upon arrival the kitchenette includes free wines and food.
The Park Mansion apartment has a spacious living room featuring a chandelier, parquet floors and an open fireplace. The lounge also includes a flat-screen satellite TV with a DVD player and a French balcony with park views.
The kitchenette features a sink, small hob and microwave. A quooker boiling water tap and a Nespresso coffee machine are also provided. Park Mansion benefits from personal service from the host and unique touches such as orchids and candles.
The Rijksmuseum and the Van Gogh Museum are a 5-minute walk away. The Amsterdam's upscale shopping street of P.C. Hooftstraat is less than 200 m from the apartment.
Garden Suite
Garden Suite
-This modern loft-style apartment with free WiFi benefits from a roof terrace, fresh flowers plus free food and wines. Garden Suite Centre overlooks the garden and is only 5 minutes' walk from Leidseplein.
This designer apartment features a spacious lounge with a cosy open fireplace, unique high ceiling and elegant décor. The Garden Suite includes 1 bedroom with a double bed. The penthouse also includes a flat-screen cable TV with DVD player and a fully-equipped kitchen with a dishwasher.
The Garden Suite is air conditioned and includes a contemporary bathroom with a large bath and heated towel rail. Luxurious toiletries, bathrobes and slippers are also provided.
The highly attentive service at the apartment includes personal recommendations for sightseeing. P.C Hoofdstraat is 200 m from the apartment. The Museum Quarter, featuring the Van Gogh Museum and Rijksmuseum, is less than 10 minutes' walk away.
Oud Zuid is a great choice for travellers interested in museums, cycling and culture.
Stay in the real heart of the city - this is our guests' favourite part of Amsterdam, according to independent reviews. This area is also great for shopping, with popular brands nearby: Apple, Cartier, Tiffany & Co, Hermès, Ralph Lauren.
Museum Quarter Penthouse
Museum Quater Penthouse
- Located 400 m from Museum Square in Amsterdam, this apartment features a terrace. The property boasts views of the city and is 600 m from Van Gogh Museum. Free WiFi is available throughout the property.
The kitchen has a dishwasher and an oven. Towels and bed linen are featured at Museum Quarter Penthouse. There is a private bathroom with a bath.
Rijksmuseum is 900 m from Museum Quarter Penthouse, while Heineken Experience is 1 km away. The nearest airport is Schiphol Airport, 9 km from Museum Quarter Penthouse.
Oud Zuid is a great choice for travellers interested in museums, cycling and culture.
Breitner House
Breitner House
is set in a characteristic Amsterdam townhouse overlooking the Oosterpark. It offers 2 large, classically decorated suites with modern features such as a flat-screen TV and iPod docking station.
Both rooms have the atmosphere of the 1800s with authentic ornaments, big Italian chandeliers and antique furnishings. They have luxurious bathrooms with a bath tub and free toiletries.
Every morning, Breitner House serves an extensive breakfast including champagne in the classic dining room with views of the park. Several restaurants are available in the direct area for dinner.
Amsterdam's famous Museum Quarter including the Rijksmuseum and Van Gogh Museum is 15 minutes away by public transport. The Artis Zoo is 500 m away.
Oost is a great choice for travellers interested in cycling, architecture and city walks.
h
Starry Night
Starry Night
lies on Amsterdam's historic city island of Uilenburg, 200 m from Waterlooplein. It offers a large, fully-equipped apartment with a private rooftop terrace that includes barbecue facilities.
Guests can make use of a modern kitchen including a gas stove, dishwasher and a tea/coffee maker. There is also a dining area with all the necessary kitchenware provided.
The open-plan living room has a seating area set up around the TV which features cable channels and a DVD player. The bedroom has 2 extra-large single beds and a private bathroom with free toiletries.
From the Starry Night Apartment, it is 200 m to the famous Rembrandt House Museum. The Waterlooplein metro/tram stop offers easy connections to Schiphol Airport and Amsterdam Central Station.
Amsterdam City Centre is a great choice for travellers interested in food, nightlife and walking.
KeizersgrachtSuite471
KeizersgrachtSuite471
is a self-catering accommodation located in Amsterdam and offers view over the famous canals. Free WiFi access is available. The property is 450 m from Leidseplein and 280 m from the Flower Market.
This accommodation will provide you with a flat-screen TV, a minibar and an iPod dock. There is a fully-equipped kitchen with a dishwasher and a microwave. The private bathroom comes with a shower and a hairdryer. You can enjoy city view.
If you feel like visiting the surroundings, check out Rembrandtplein (800 m) and the Rijksmuseum (750 m). Schiphol Airport is located 14.5 km away.
Amsterdam City Centre is a great choice for travellers interested in food, nightlife and walking.
Petit Prince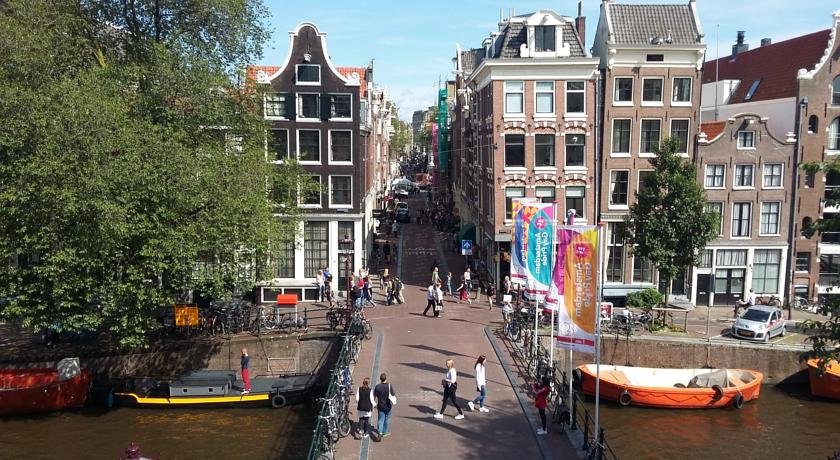 Petit Prince
offers 2 luxurious apartments in the Nine Streets shopping area with free Wi-Fi and unique Prinsengracht Canal views. They feature free food, drinks including wine, flowers, and a fully-equipped kitchen.
The apartments each have a large flat-screen TV, and a selection of DVDs and CDs. Each apartment comes complete with candles, dimming lights and a cosy fireplace.
Petit Prince is located 300 m from the Anne Frank House and a 10-minute walk away from Dam Square. The Westermarkt tram stop offers direct access to Amsterdam Central Station and is a 2-minute walk away.
Amsterdam City Centre is a great choice for travellers interested in food, nightlife and walking.
Blue Tulip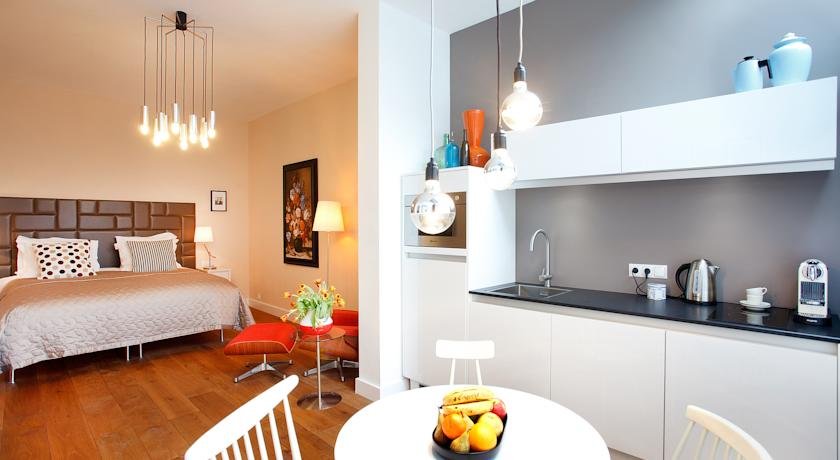 Blue Tulip Amsterdam
is located in Amsterdam at the opposite of Rijksmuseum and its neighbouring Van Gogh Museum. Leidseplein and the Heineken brewery are within short walking distance.
This studio features a private entrance and offers free Wi-Fi access. It comes with a balcony, flat-screen TV and a private bathroom fitted with a walk-in shower. It also has a fully equipped kitchen including a microwave and refrigerator. Coffee, tea, soft drinks and fresh fruits are provided.
Albert Cuypmarket can be found within 500 m and there are several restaurants/cafés in the direct surrounding of Blue Tulip Amsterdam.
The bed and breakfast is 2.1 km from Amsterdam Central Station, 1.4 km from Dam Square and 1 km from Rembrandtplein. Schiphol Airport is 10 km away.
Amsterdam City Centre is a great choice for travellers interested in food, nightlife and walking.
Suite 1888
Suite 1888
is a luxurious bed and breakfast on the ground floor of a 19th-century townhouse, located only 100 m from Amsterdam's Oosterpark and 15 minutes by tram from the city centre. With two large en-suite rooms, a private terrace and free WiFi.
The elegant room has its original features such as high ceilings and ornaments, a flowery wall painting and a large chandelier. There is a private bathroom with bathtub and rain shower, a flat-screen TV and a minibar with complimentary drinks.
Every morning breakfast is offered in your room. It consists of fresh rolls, orange juice and fruit. The Linneausstraat, is right around the corner of Suite 1888. There you will find a wide variety of cafes and restaurants.
From the Wijtenbachstraat tram stop, all the city sights can be reached by public transport within 15 minutes: Dam Square, Rembrandtplein, Leidseplein and the Museum Quarter, including the Rijksmuseum, the Van Gogh Museum and the Concert Hall.
Oost is a great choice for travellers interested in cycling, architecture and city
Frederik Park House
The Frederik Park House
is a small, well appointed and friendly boutique-style hotel situated in a quiet part of old Amsterdam, facing a park.
It's ideally located within easy reach of all facilities and the attractions of the old city and beyond, being well served by public transport. It has a roof terrace.
All the non-smoking guestrooms are stylish decorated, have large comfortable English style double beds, a sitting area with television, ensuite bathrooms with shower- and toilet facilities, fresh cut flowers and a view over a park.
A delicious Dutch breakfast is brought to the door every morning. There is a wide variety of restaurants and traditional Dutch bars literally round the corner. Amsterdam City Centre is a great choice for travellers interested in food, nightlife and walking.
Google Maps Amsterdam
Top 10 hotel reviews in Amsterdam
By
Rene Husken
Highest reviews by all Amsterdam hotel visitors
Highest reviews
9.8 is the highest rating in a scale of 0-10
based on + 200 ratings