Germany elements in Amsterdam
Details

Category: Amsterdam
The ties between Germany and Amsterdam are almost as old as the Netherlands capital city itself. In 1323, Amsterdam was given the right to levy tolls on imported beer and the city became the centre of the thriving beer trade with Hamburg. The beer traders from Hamburg may well have been the first foreigners in the fledgling city of Amsterdam. Since 1600, Amsterdam has been a favourite tourist destination for German visitors, which becomes apparent from many travel journals. German visitors are still ranked at an honourable third place on the Amsterdam Tourist Barometer.

Hamburger Kapel in the Oude Kerk
Between 1494-1509, the Oude Kerk was extended with the Hamburger Kapel, a chapel commissioned by the Hamburg tradesmen who had come to settle in Amsterdam. The vault of this chapel still shows the Hamburg city coat of arms held by two lions, as put up in 1905. The chapel is to the right of the main organ and in it lies buried, among others, Paulus Wirtz. He was born in Holstein and later served in the Swedish army. In 1668 he was appointed field marshal in the Dutch army. He died in Hamburg in 1676, but was interred in the Oude Kerk three years later and was given a commemorative plaque on the wall.

Decorative stone gable tablets of German cities
It was not until the beginning of the 18th century that the houses in Amsterdam were numbered. Before that time, the addresses of the houses were marked by their names depicted on decorative stone tablets on the façades. Of the thousands of stone tablets from the 17th and 18th century, over eight hundred have remained. Some of them refer to German cities, because in many instances the person living in the house was originally from that particular city, or had business interests there.
Bad Bentheim: at Bethaniënstraat 45, on the side facade of the house on the corner with Kloveniersburgwal a castle is depicted. The bottom border reads: 'Int huys te Bentem' (in the house in Bentem) and the castle Bentheim in Bad Bentheim is depicted. See also the stone in the Sint Jacobsstraat 40.
Berlin: under the cornice at the top of the gable of Nieuwezijds Voorburgwal 276 the name of the German capital can be found.
Heidelberg: the gable stone 'T Heydelberghs Vadt' at Nieuwezijds Kolk 12 dates from circa 1750. It depicts the famous barrel (vadt) from the Heidelberg Castle and, quite appropriately, adorns the façade of an ancient cafe. The fame of this enormous wine barrel, with a content of 236,000 bottles of wine, apparently had also made its way to Amsterdam.
Münster: the gable at the Hasseltsteeg 35 shows the stone 'T wapen van Munster' (the Munster crest).
Oldenburg: 'D Stadt Oldenburg 1728', a view of this city, Monnikenstraat 12
Osnabrück: Gable stone at Nieuwezijds Voorburgwal 66, with a reference to the city Osnabrugge.
Ulm: 'D Stadt Ulm 1672', a view of the city Ulm, can be seen on the
stone tablet of the Amsterdam Museum, Sint Luciënsteeg.
Wesel: the stone tablet 'D stat Wesel' (the city of Wesel) at the Monnikenstraat 19 depicts the silhouette of this city in the 17th century.

German skylines
At Nieuwe Uilenburgerstraat 13-23 is a row of 17th century warehouses named after six Rhineland cities (stat). The names are at the top of the gables: 'De stat Colln', 'De stat Coblenz', 'De stat Maintz', De stat Francfurt', 'De stat Bonn', and 'De stat Mannheim'. The first four depict the silhouettes of these cities; the other two have to settle with a mere reference to their names. The intensive trading relationship between Amsterdam and the Rhineland started as early as the 17th century. The warehouses have now been converted into apartments.

Coats of arms of five German cities on the façade of the Central Station
The façade of Amsterdam's Central Station is adorned with the coats of arms of fifteen European cities, each depicted on colourful enamelled tiles of about 1 x 1 metre wide. The titles represent the most important foreign cities that were connected to Amsterdam by rail at the end of the 19th century. Germany, with five cities mentioned is represented best by far. Between London and Saint Petersburg you will find Berlin, Hamburg, Cologne, Frankfurt and Munich. They are all part of the lavish decorations of the station that opened in 1889 and was considered to be a 'triumphal arch of transport' at the time. Nowadays over fifty trains enter the station on a daily basis, among which are ICE trains from these German cities. After having been under construction for many years, Central Station will have been restored to much of its former glory around 2015.

Dwelling of Heinrich Schliemann, discoverer of Troy
At Keizersgracht 71, German archaeologist Heinrich Schliemann (1822-1890) used to live. He settled in Athens in 1868 and two years later he started his excavations in Asia Minor, where he discovered the remains of ancient Troy.

The 'Germany House

At the Amsterdam Roemer Visscherstraat, you can make a tour of seven European countries within a minute. At number 20 the 'Germany' House is located; a house with Gothic arches inspired by the romantic German architecture. It has been there since 1894, together with houses from six other countries. From left to right they are France, Spain, Italy, Russia, the Netherlands and United Kingdom. This 'United Europe', also known as the 'Zevenlandenhuizen' (Seven Country Houses) was designed by architect Tjeerd Kuipers (1858-1942) with the intention to depict the history of European architecture. The Roemer Visscherstraat is in the Museumkwartier, the district between Leidseplein and Vondelpark.

Café Brecht, a Berlin living room cafe At Weteringschans 157, a Berlin-style living room cafe is located, named after the German writer Berthold Brecht. It is decorated with table lamps, old armchairs and grandmother tea cups. Even wool and knitting needles are available. Brecht is opened daily from noon to after midnight and all day long bread, cake and delicious treats are being served – and of course German beers and trendy German soda drinks are also available.
cafebrecht.nl

Lunchroom Brezel for super fresh pretzels
At Sarphatistraat 42A, corner Wibautstraat, Lunchroom Brezel is located for all people fond of German pretzels. They are baked fresh every day: all natural ingredients with just salt, with cheese and cumin or with pumpkin seeds. In addition to other German products, they also sell Mediterranean salads, filled rolls and traditional Dutch 'pannenkoeken' (pancakes). For breakfast and late lunch open: 7:30am-4.30pm, Saturdays 8.30am-4pm.
brezel.nl

Concept store Klein Berlijn
Klein Berlijn (Little Berlin) calls itself an ode to Berlin. The shop sells vintage clothing, handmade jewellery, curiosities and art. You can buy and drink a fresh cup of tea. After the success of the Amsterdam-West (Admiraal de Ruijterweg 9) store, another branch opened in the Eastern part of town: Middenweg 36.
kleinberlijn.com

Berlin tram at the Museumtramlijn
Amsterdam has a Museumtramlijn (Tramway Museum) offering rides to citizens of Amsterdam and tourists on Sundays from April until the end of October. The tramways are used by historic trams from Amsterdam, other Dutch cities and also from abroad. The collection also boasts a tram from Berlin.
museumtramlijn.org
---
Top 10 hotels in Amsterdam - selection based on highest ratings in reviews
Park Mansion
Park Mansion Centre
offers a luxurious apartment with opulent period-style décor and free Wi-Fi, overlooking Vondelpark and 5 minutes' walk from Leidseplein. Upon arrival the kitchenette includes free wines and food.
The Park Mansion apartment has a spacious living room featuring a chandelier, parquet floors and an open fireplace. The lounge also includes a flat-screen satellite TV with a DVD player and a French balcony with park views.
The kitchenette features a sink, small hob and microwave. A quooker boiling water tap and a Nespresso coffee machine are also provided. Park Mansion benefits from personal service from the host and unique touches such as orchids and candles.
The Rijksmuseum and the Van Gogh Museum are a 5-minute walk away. The Amsterdam's upscale shopping street of P.C. Hooftstraat is less than 200 m from the apartment.
Garden Suite
Garden Suite
-This modern loft-style apartment with free WiFi benefits from a roof terrace, fresh flowers plus free food and wines. Garden Suite Centre overlooks the garden and is only 5 minutes' walk from Leidseplein.
This designer apartment features a spacious lounge with a cosy open fireplace, unique high ceiling and elegant décor. The Garden Suite includes 1 bedroom with a double bed. The penthouse also includes a flat-screen cable TV with DVD player and a fully-equipped kitchen with a dishwasher.
The Garden Suite is air conditioned and includes a contemporary bathroom with a large bath and heated towel rail. Luxurious toiletries, bathrobes and slippers are also provided.
The highly attentive service at the apartment includes personal recommendations for sightseeing. P.C Hoofdstraat is 200 m from the apartment. The Museum Quarter, featuring the Van Gogh Museum and Rijksmuseum, is less than 10 minutes' walk away.
Oud Zuid is a great choice for travellers interested in museums, cycling and culture.
Stay in the real heart of the city - this is our guests' favourite part of Amsterdam, according to independent reviews. This area is also great for shopping, with popular brands nearby: Apple, Cartier, Tiffany & Co, Hermès, Ralph Lauren.
Museum Quarter Penthouse
Museum Quater Penthouse
- Located 400 m from Museum Square in Amsterdam, this apartment features a terrace. The property boasts views of the city and is 600 m from Van Gogh Museum. Free WiFi is available throughout the property.
The kitchen has a dishwasher and an oven. Towels and bed linen are featured at Museum Quarter Penthouse. There is a private bathroom with a bath.
Rijksmuseum is 900 m from Museum Quarter Penthouse, while Heineken Experience is 1 km away. The nearest airport is Schiphol Airport, 9 km from Museum Quarter Penthouse.
Oud Zuid is a great choice for travellers interested in museums, cycling and culture.
Breitner House
Breitner House
is set in a characteristic Amsterdam townhouse overlooking the Oosterpark. It offers 2 large, classically decorated suites with modern features such as a flat-screen TV and iPod docking station.
Both rooms have the atmosphere of the 1800s with authentic ornaments, big Italian chandeliers and antique furnishings. They have luxurious bathrooms with a bath tub and free toiletries.
Every morning, Breitner House serves an extensive breakfast including champagne in the classic dining room with views of the park. Several restaurants are available in the direct area for dinner.
Amsterdam's famous Museum Quarter including the Rijksmuseum and Van Gogh Museum is 15 minutes away by public transport. The Artis Zoo is 500 m away.
Oost is a great choice for travellers interested in cycling, architecture and city walks.
h
Starry Night
Starry Night
lies on Amsterdam's historic city island of Uilenburg, 200 m from Waterlooplein. It offers a large, fully-equipped apartment with a private rooftop terrace that includes barbecue facilities.
Guests can make use of a modern kitchen including a gas stove, dishwasher and a tea/coffee maker. There is also a dining area with all the necessary kitchenware provided.
The open-plan living room has a seating area set up around the TV which features cable channels and a DVD player. The bedroom has 2 extra-large single beds and a private bathroom with free toiletries.
From the Starry Night Apartment, it is 200 m to the famous Rembrandt House Museum. The Waterlooplein metro/tram stop offers easy connections to Schiphol Airport and Amsterdam Central Station.
Amsterdam City Centre is a great choice for travellers interested in food, nightlife and walking.
KeizersgrachtSuite471
KeizersgrachtSuite471
is a self-catering accommodation located in Amsterdam and offers view over the famous canals. Free WiFi access is available. The property is 450 m from Leidseplein and 280 m from the Flower Market.
This accommodation will provide you with a flat-screen TV, a minibar and an iPod dock. There is a fully-equipped kitchen with a dishwasher and a microwave. The private bathroom comes with a shower and a hairdryer. You can enjoy city view.
If you feel like visiting the surroundings, check out Rembrandtplein (800 m) and the Rijksmuseum (750 m). Schiphol Airport is located 14.5 km away.
Amsterdam City Centre is a great choice for travellers interested in food, nightlife and walking.
Petit Prince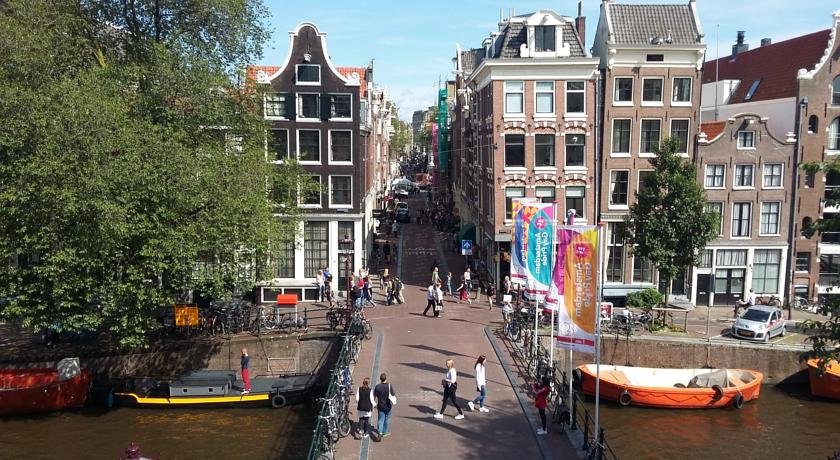 Petit Prince
offers 2 luxurious apartments in the Nine Streets shopping area with free Wi-Fi and unique Prinsengracht Canal views. They feature free food, drinks including wine, flowers, and a fully-equipped kitchen.
The apartments each have a large flat-screen TV, and a selection of DVDs and CDs. Each apartment comes complete with candles, dimming lights and a cosy fireplace.
Petit Prince is located 300 m from the Anne Frank House and a 10-minute walk away from Dam Square. The Westermarkt tram stop offers direct access to Amsterdam Central Station and is a 2-minute walk away.
Amsterdam City Centre is a great choice for travellers interested in food, nightlife and walking.
Blue Tulip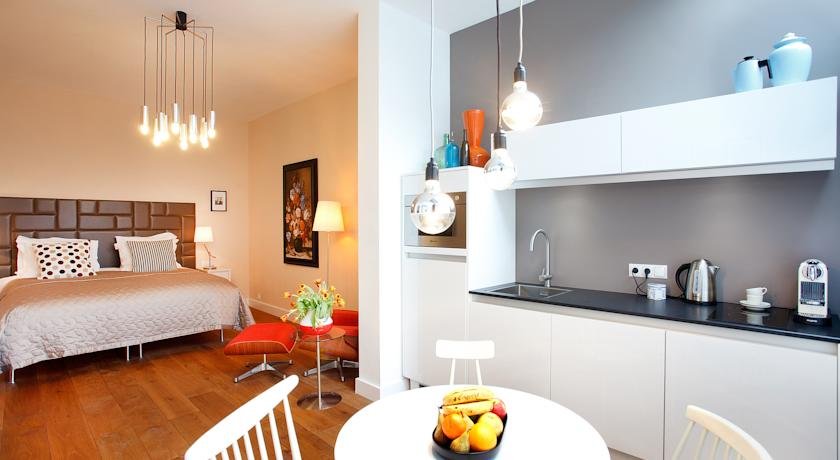 Blue Tulip Amsterdam
is located in Amsterdam at the opposite of Rijksmuseum and its neighbouring Van Gogh Museum. Leidseplein and the Heineken brewery are within short walking distance.
This studio features a private entrance and offers free Wi-Fi access. It comes with a balcony, flat-screen TV and a private bathroom fitted with a walk-in shower. It also has a fully equipped kitchen including a microwave and refrigerator. Coffee, tea, soft drinks and fresh fruits are provided.
Albert Cuypmarket can be found within 500 m and there are several restaurants/cafés in the direct surrounding of Blue Tulip Amsterdam.
The bed and breakfast is 2.1 km from Amsterdam Central Station, 1.4 km from Dam Square and 1 km from Rembrandtplein. Schiphol Airport is 10 km away.
Amsterdam City Centre is a great choice for travellers interested in food, nightlife and walking.
Suite 1888
Suite 1888
is a luxurious bed and breakfast on the ground floor of a 19th-century townhouse, located only 100 m from Amsterdam's Oosterpark and 15 minutes by tram from the city centre. With two large en-suite rooms, a private terrace and free WiFi.
The elegant room has its original features such as high ceilings and ornaments, a flowery wall painting and a large chandelier. There is a private bathroom with bathtub and rain shower, a flat-screen TV and a minibar with complimentary drinks.
Every morning breakfast is offered in your room. It consists of fresh rolls, orange juice and fruit. The Linneausstraat, is right around the corner of Suite 1888. There you will find a wide variety of cafes and restaurants.
From the Wijtenbachstraat tram stop, all the city sights can be reached by public transport within 15 minutes: Dam Square, Rembrandtplein, Leidseplein and the Museum Quarter, including the Rijksmuseum, the Van Gogh Museum and the Concert Hall.
Oost is a great choice for travellers interested in cycling, architecture and city
Frederik Park House
The Frederik Park House
is a small, well appointed and friendly boutique-style hotel situated in a quiet part of old Amsterdam, facing a park.
It's ideally located within easy reach of all facilities and the attractions of the old city and beyond, being well served by public transport. It has a roof terrace.
All the non-smoking guestrooms are stylish decorated, have large comfortable English style double beds, a sitting area with television, ensuite bathrooms with shower- and toilet facilities, fresh cut flowers and a view over a park.
A delicious Dutch breakfast is brought to the door every morning. There is a wide variety of restaurants and traditional Dutch bars literally round the corner. Amsterdam City Centre is a great choice for travellers interested in food, nightlife and walking.
Google Maps Amsterdam:
Top 10 hotel reviews in Amsterdam
By
Rene Husken
Highest reviews by all Amsterdam hotel visitors
Highest reviews
9.8 is the highest rating in a scale of 0-10
based on + 200 ratings