Sixteen million international visitors in 2025
Details

Category: Latest news Visit Holland
Growth perspective of 3.5 million visitors, over € 5 billion in spend and 20,000 jobs. Almost sixteen million tourists from aboard are expected to visit Holland in 2025.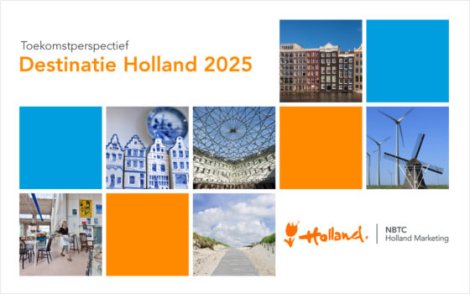 This represents a growth of approximately 30% compared with the 12.2 million tourists who visited our country in 2012. This is an average growth of 2% per year, as shown in the 'Destination Holland 2025' outlook on the future, presented by NBTC Holland Marketing in the World Forum Convention Centre in The Hague.

INBOUND TOURISM GROWTH MARKET
With the exception of a few dips, the numbers of inbound tourists to Holland increased during the last decades. NBTC expects further growth in the coming years. Until 2018 an average growth of 2.4% per year is expected, after which growth will level off to an annual average of 1.6% until 2025. Jos Vranken, Managing Director of NBTC says, "The expected growth is mainly due to the relatively strong growth from the emerging travel markets, the BRIC countries. These countries experience continuous economic growth, enabling increasingly more people to travel to international destinations. With respect to the more mature travel markets, such as Europe, the prosperous baby-boomers will contribute significantly to the growth of international tourism in the coming years. A growing group of active senior citizens who have both the time and the money to travel will visit our country. In addition, the further growth and development of social travelling will offer opportunities. This is also a growing group of individual travellers who are inclined to go off the beaten track, and who will explore parts of our country as yet undiscovered by visitors from abroad."

CHINA NEWCOMER IN TOP 5
The abovementioned perspective will result in several changes in the top five of source countries of visitors. Germany will remain the number one source country, with over 3.5 million visitors in 2025. Belgium and the United Kingdom will switch positions, with Belgium moving to the second ranking with over 2.2 million visitors. The United Kingdom comes third with 2 million visitors. The United States will keep its fourth position with over 1.3 million visitors. China climbs fastest, moving from ninth to fifth position. Vranken: "We expect more than 800,000 Chinese visitors in 2025, which is four times the current number. Given the larger numbers of visitors from outside Europe, expenditure will increase even more quickly than visitor numbers. Generally speaking, intercontinental visitors spend above average during their time in Holland. The total spend will increase to approximately € 12.4 billion in 2025, compared with
€ 7.3 billion in 2012. As a result, employment will grow. In 2012, inbound tourism generated approximately 60,000 jobs, by 2025 this could increase to 80,000. Inbound tourism, therefore, will contribute greatly to the desired job growth in Holland."

CONDITIONAL GROWTH
In spite of the outlined perspective of sixteen million foreign visitors in 2025, NBTC emphasizes that achieving this number will largely depend on various conditions. Vranken: "It is good to see that the growth achieved by the sector until now is also considered possible for the years to come. However, such growth is not self-evident. The competition is fierce and growing, and even performs better in some areas. We face challenges with respect to availability, accessibility, perception, awareness, and affordability of the destination Holland. Tourism is a series of perceptions and experiences. It is essential that the parties involved work together, because only thus can we really capitalize on the opportunities."

BASIS FOR FUTURE HOLLAND MARKETING
NBTC uses the 'Destination Holland 2025' outlook on the future as the basis for future international marketing activities, and will make the connection with and between other important players. One of the future focal points is the spread of visitors both in time and space. Vranken: "The outlined growth also necessitates optimum use of the available capacity, and avoidance of bottlenecks. We can do this by tempting guests to also travel to Holland at different times of the year and/or visit other places of interest."

Link to the 'Future perspective Destination Holland 2025' publication is available on www.nbtc.nl/2025.

About NBTC Holland Marketing
NBTC Holland Marketing is responsible for the branding and marketing of the destination Holland. NBTC Holland Marketing is active in thirteen markets under the name of NBTC Netherlands Board of Tourism & Conventions.